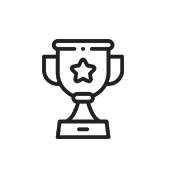 Won many awards on international and national platforms for woman Entrepreneurship, woman disruptors, Business consultant, Brand management & leadership. She also bagged the Woman excellence award from IAF and 40 under 40 award by the Indian achievers club.
Featured in leading magazine portals like Fortune India, Entrepreneur India, Your story, The week &Insight success stories. She has also been covered in leading news channels like NBC, Fox, TOI, Deccan Chronicle, The Indian Express, Outlook Express, Hindustan times & ANI news.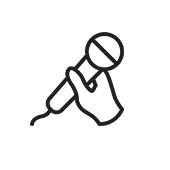 She has been nominated for TEDx for sharing her Entrepreneurial journey. She delivered a beautiful speech on a famous platform named Josh talks. She has been international speaker representing India in various platforms connected to  entrepreneurial  summits and workshop .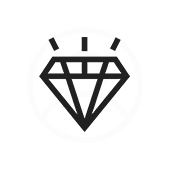 She is the President of WICCI, Branding & marketing Category, Kerala Chapter. She also has been a mentor in KSUM, TiE, Startup grind & Startup Culture. Anooja is also a member of KMA, JCI and associated with NASSCOM & IWIL. She is a lifetime member of  Anooja initiatives. Member in Dell woman Entrepreneur network.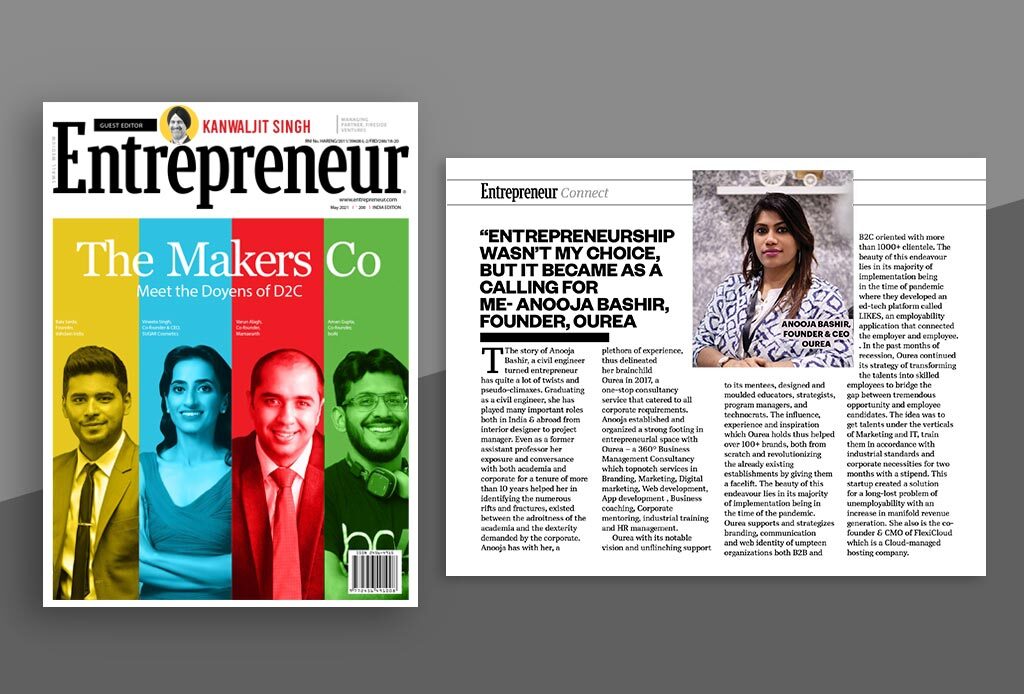 Entrepreneur India features our CEO
Our CEO Anooja Bashir has been starred in an article in Entrepreneur India Magazine Maker & Co editions,May 2021 along with many famous brand owners. Her outstanding work and excellence as a woman entrepreneur along with her contribution towards corporate world has gained enough recognition .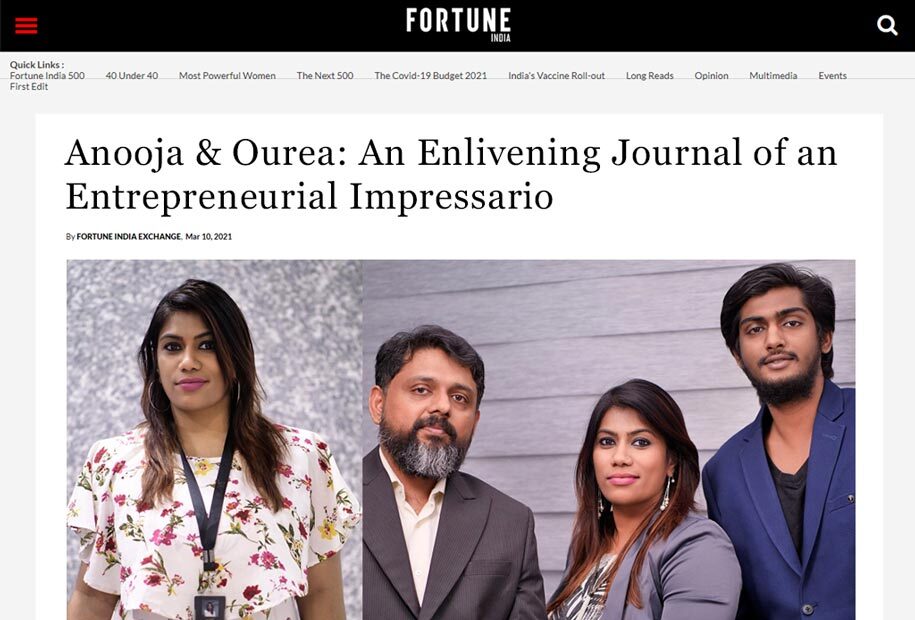 Ourea & its CEO featured in Fortune India
Fortune India ,one of the India's leading business magazine has featured our CXO s for their outstanding contribution towards the business community .Magazine has featured how Ourea withstood and transformed pandemic into sucess and hope .The entrepreneurship sagaa of our CEO was remarked as an inspiration to many.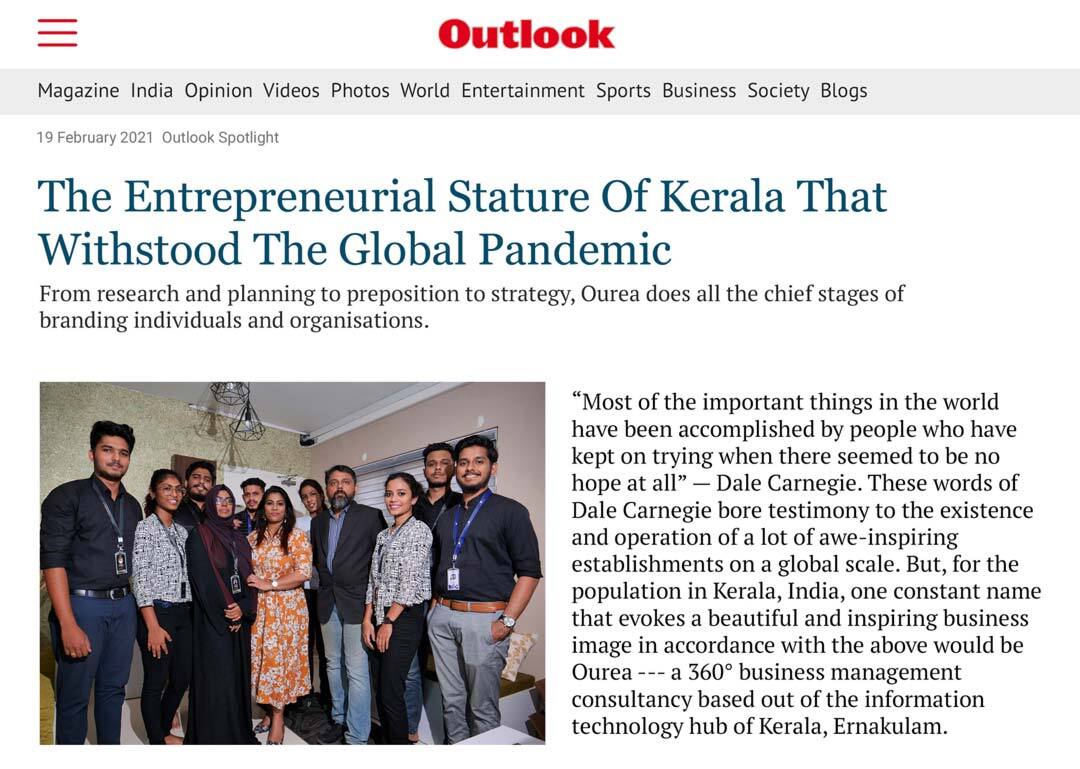 The exposure and conversance of our CEO Ms. Anooja Bashir, with both academia and the corporate for a tenure of more than 10 years helped her in identifying the numerous rifts and fractures that existed between the adroitness of academia and dexterity demanded by the corporate. The Outlook Magazine has featured the journey of Ourea and how we withstood the Covid-19 pandemic.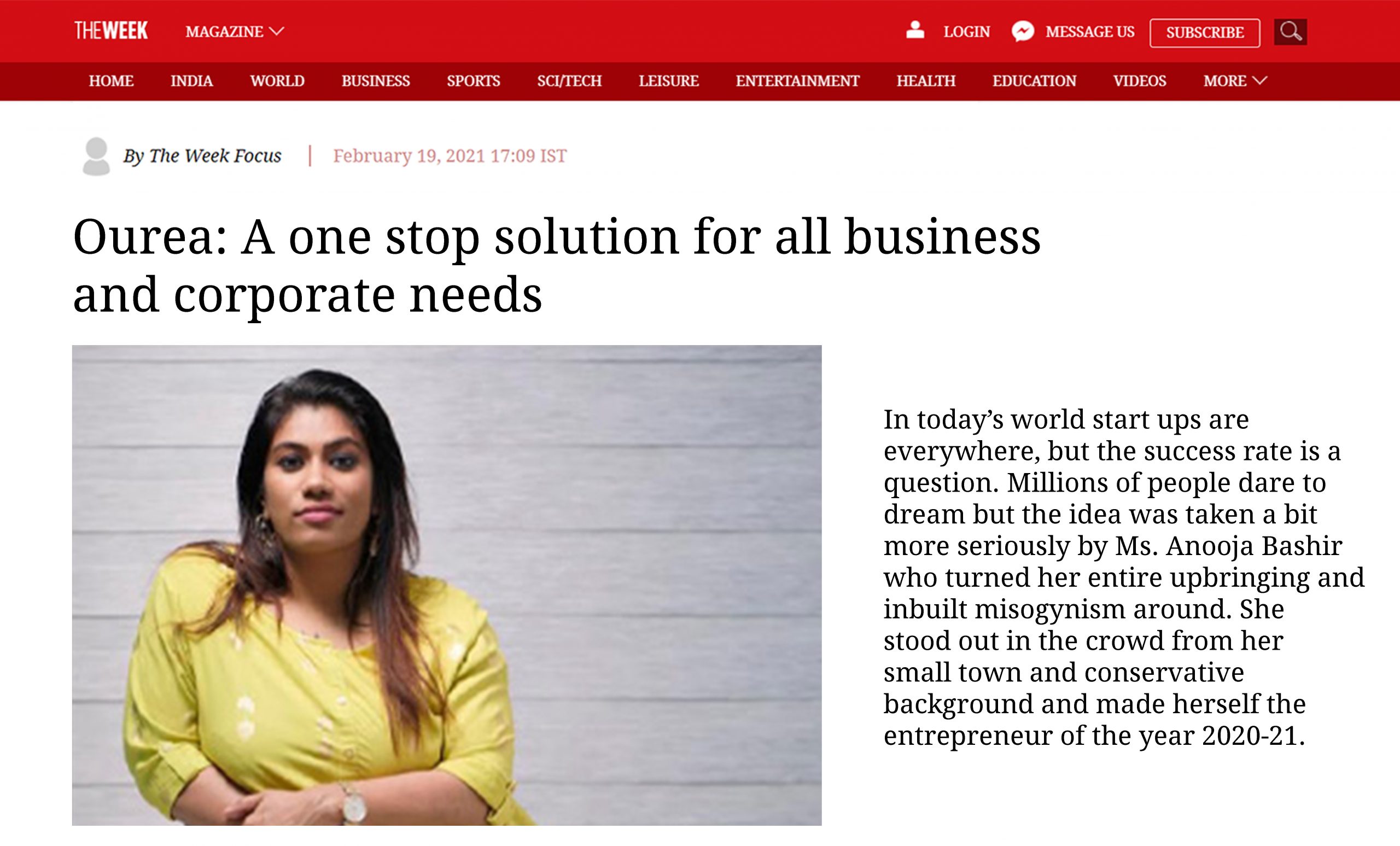 In today's world start ups are everywhere, but the success rate is a question. Millions of people dare to dream but the idea was taken a bit more seriously byour CEO, Ms. Anooja Bashir who turned her entire upbringing and inbuilt misogynism around. Click on to read the inspiring journey and success of Ourea.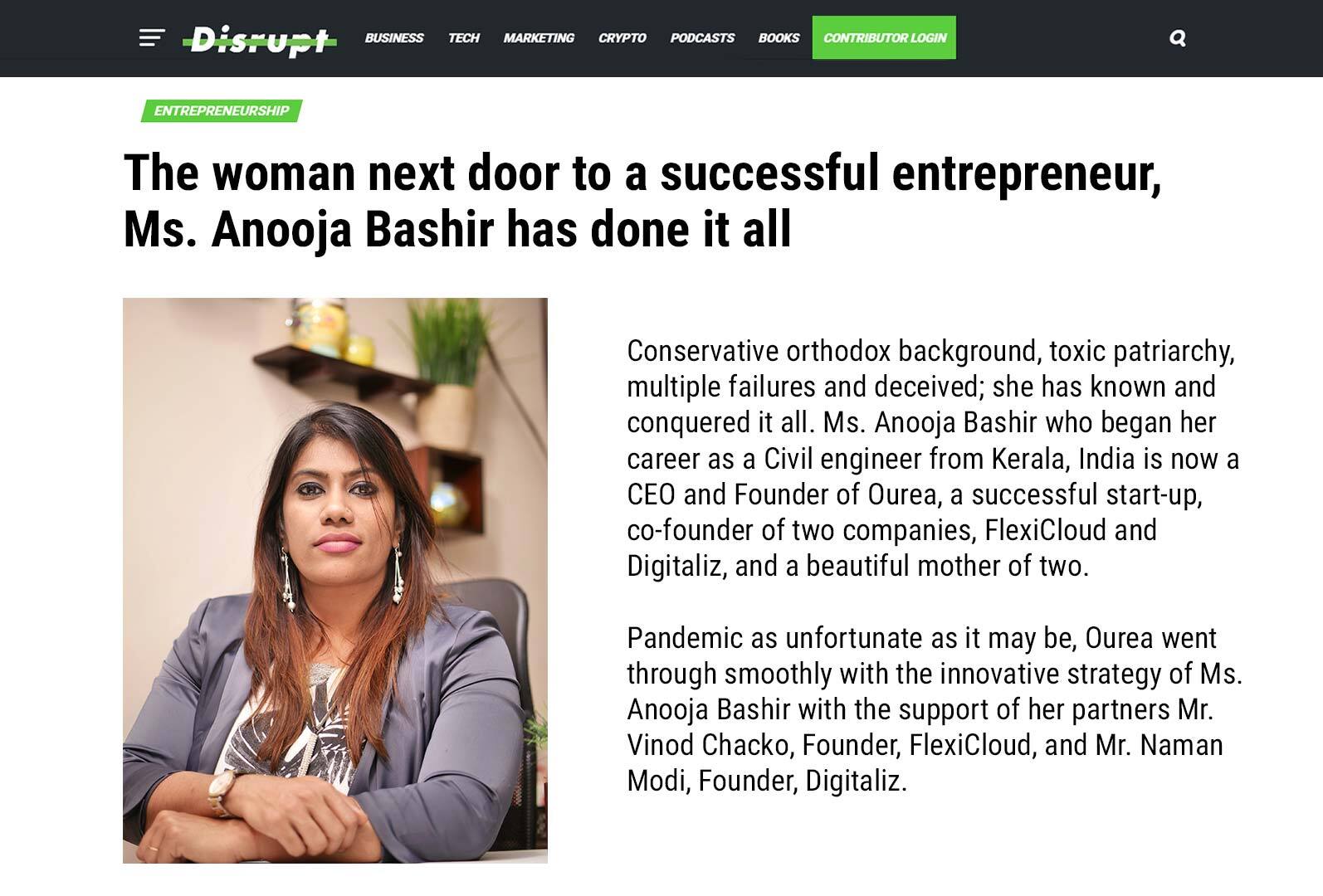 The Disrupt magazine featured the entrepreneurship journey of our CEO, Ms. Anooja Bashir. Her story is not just another tale of a successful businesswoman but of an individual who stayed self-motivated and never gave up on her dreams, no matter what the cost is. Read on to know her inspiring journey.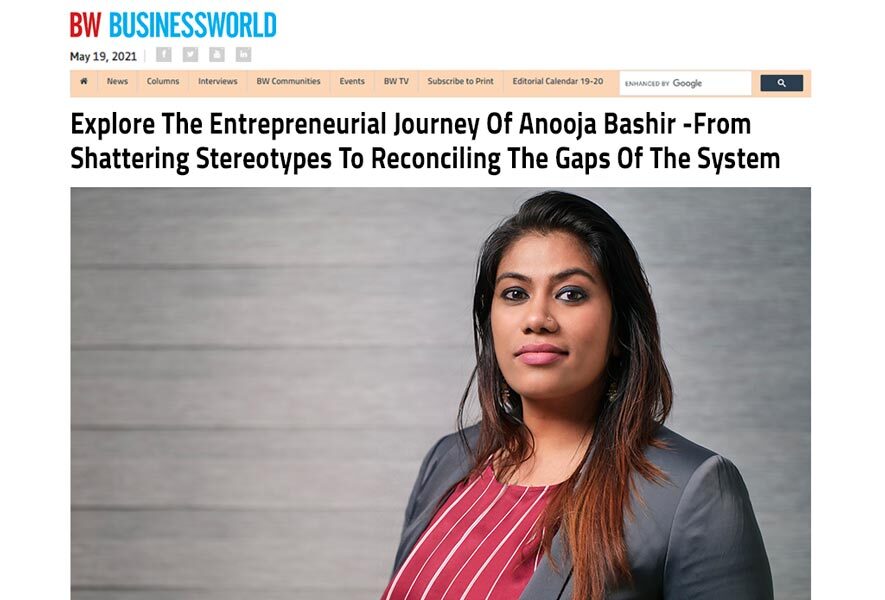 Featured in BW Business World
We are happy to announce that Our CEO Anooja Bashir has been featured in an article in Business World. Read her story of how she witnessed and experienced the bitter side of of her life and how she managed it with her undying willpower to reconstruct her startup. Anooja rose from the ashes of disdain and adversity to the modern-day phoenix that she is today. Check the below link for the story .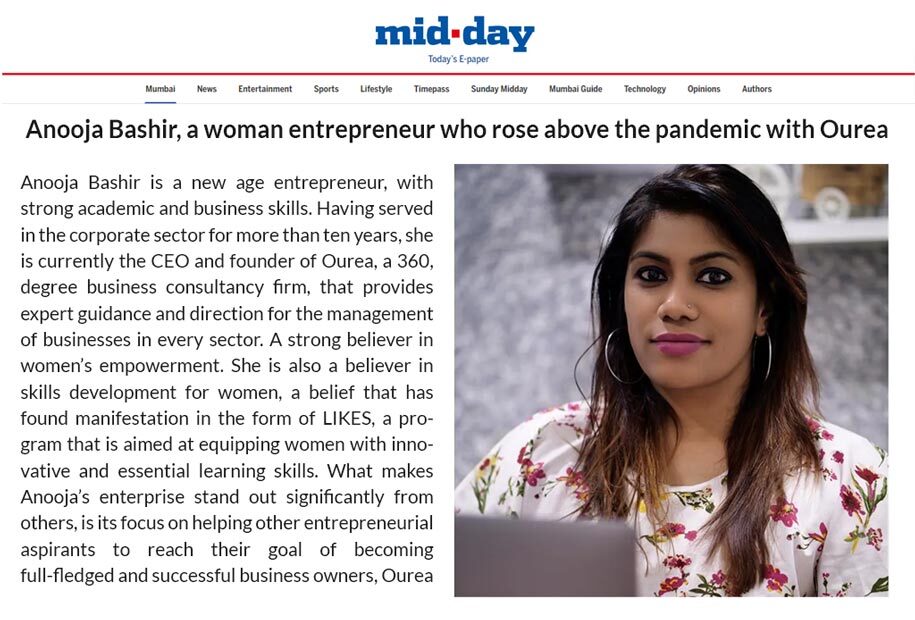 Our CEO Anooja Bashir was featured in the Midday news mentioning her strong academics and business skills with more than 10 years of service in the corporate sector. Her Entrepreneurial journey and her start up project LIKES is also well appreciated in the article for the way it was conceptualized. Read this article of the strong willed new age woman entrepreneur who is a firm believer of the women empowerment movement.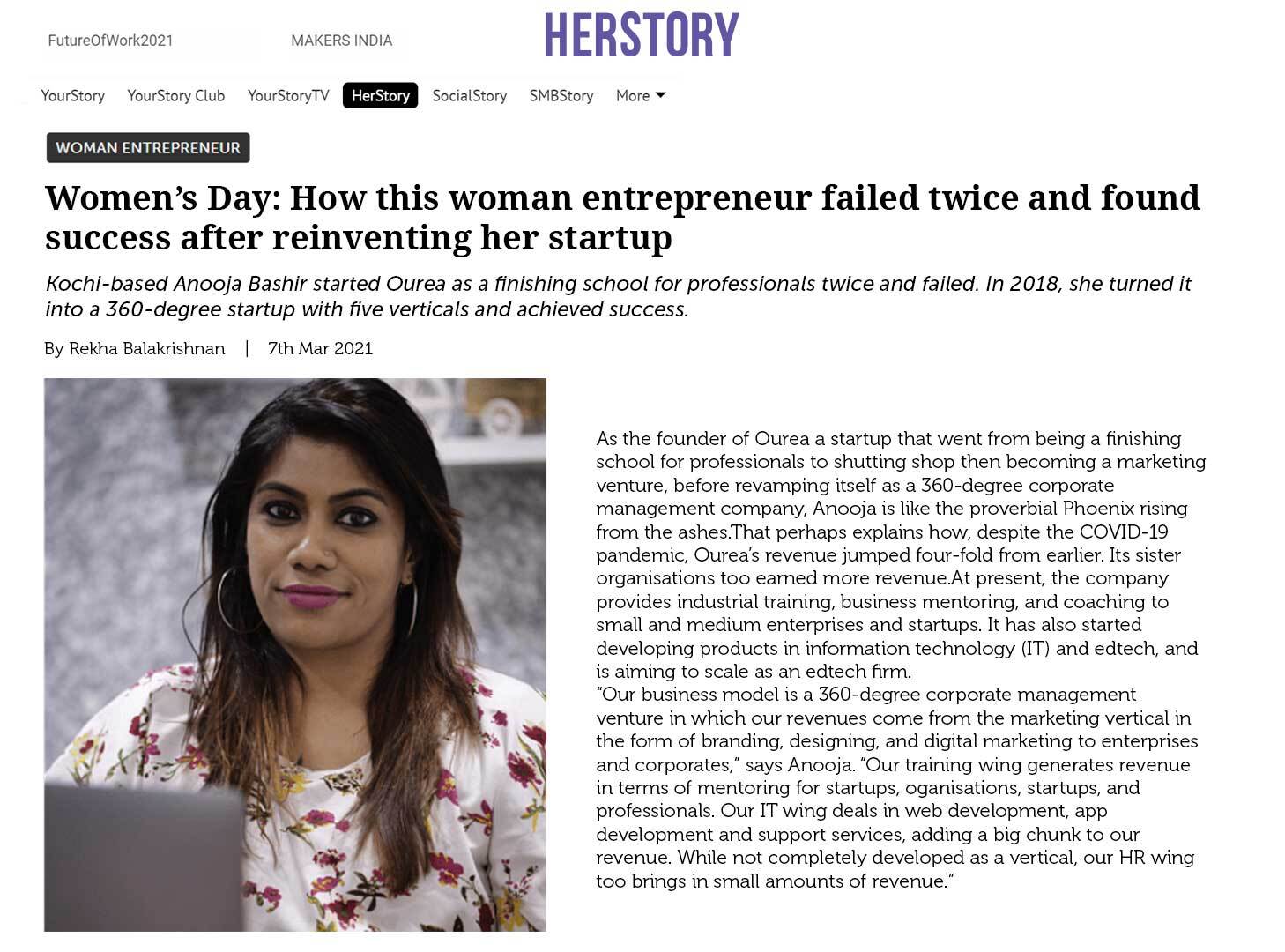 Your Story features the exceptional entrepreneurship journey of Ms. Anooja Bashir, the CEO of Oureacorp. The failures and the rise of Anooja are portrayed beautifully by Your Story. Read on to know the evolution of Ourea into a 360-degree business management consultancy.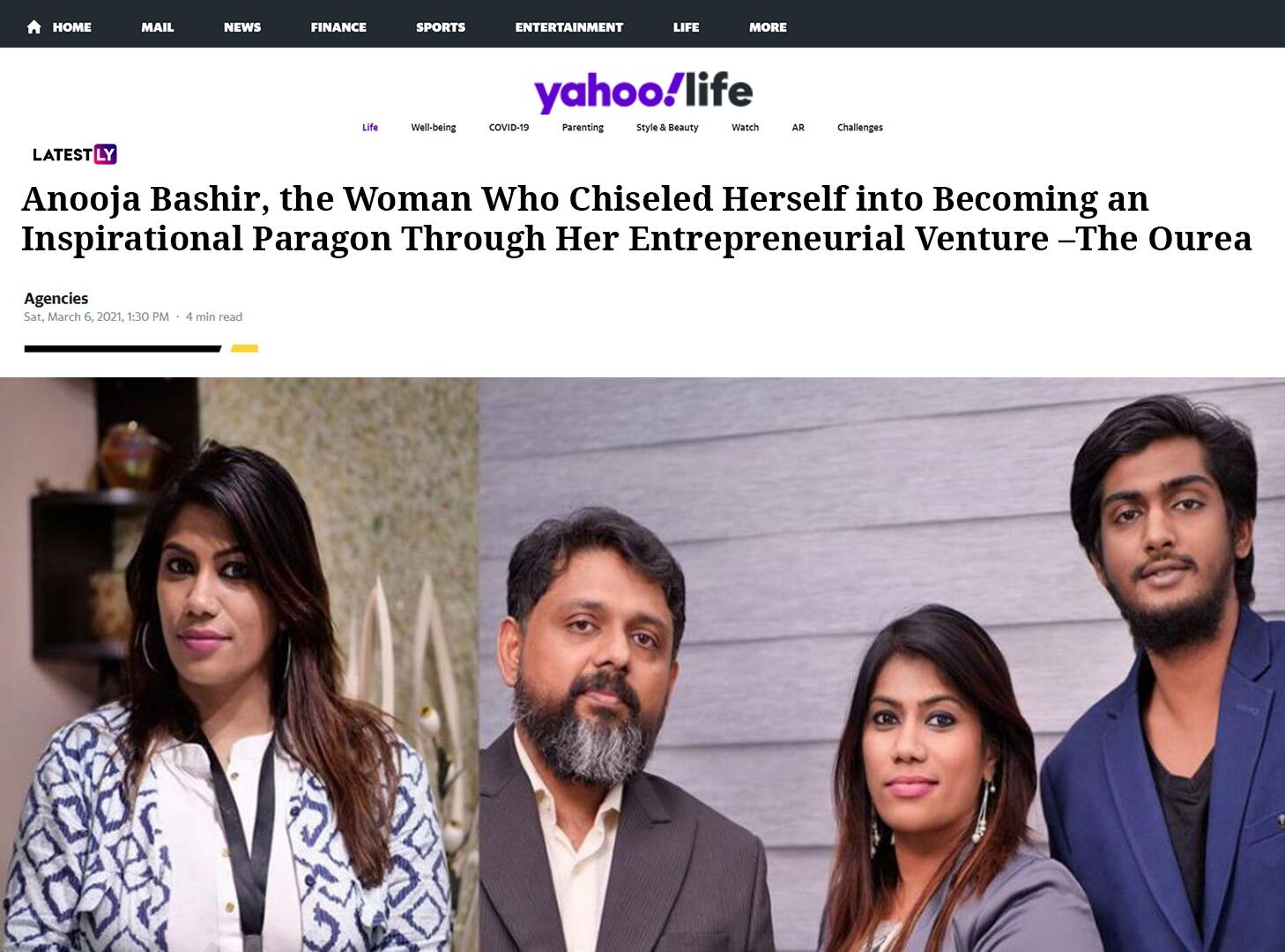 Anooja Bashir, Our CEO, was featured in Yahoo for her successful entrepreneurial journey and was remarked for shattering stereotypes to reconciling the gaps of the system. Her academia and corporate experience with toils she faced during her entrepreneurial saga is captured and presented before you by Yahoo. Click and read more.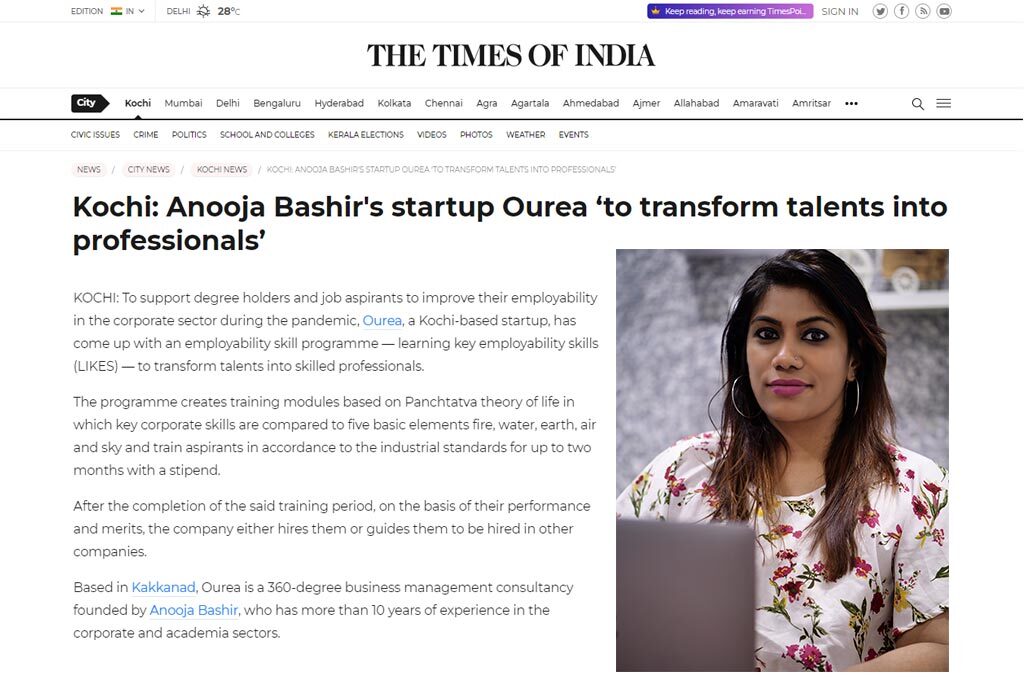 The LIKES employability program is catching worldwide attention through the latest "Times of India" feature. Read on to know how our CEO Anooja developed the concept of "LIKES" in 2013 and how it gained traction and acceptability during the pandemic.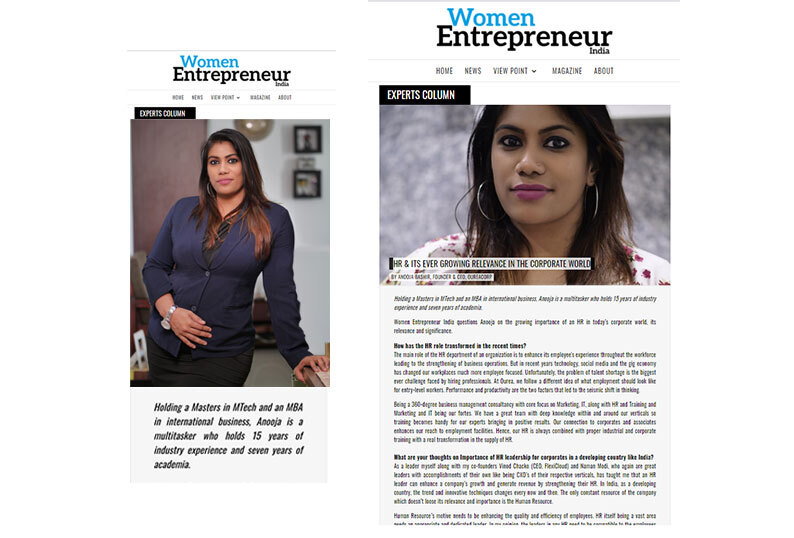 Featured in Women entrepreneur
Ms. Anooja Bashir with her expertise in the corporate field and the HR, was asked for her expert opinion by Women Entrepreneur India on the HR and its ever-growing relevance in the corporate world. She was chosen to speak as the HR leader to enlighten the audience with the post pandemic situations of HR and how her firm dealt the world-wide recession. With the qualification possessed by Ms. Anooja Bashir, she inspired many start ups for the upcoming success and she continues to do so as well.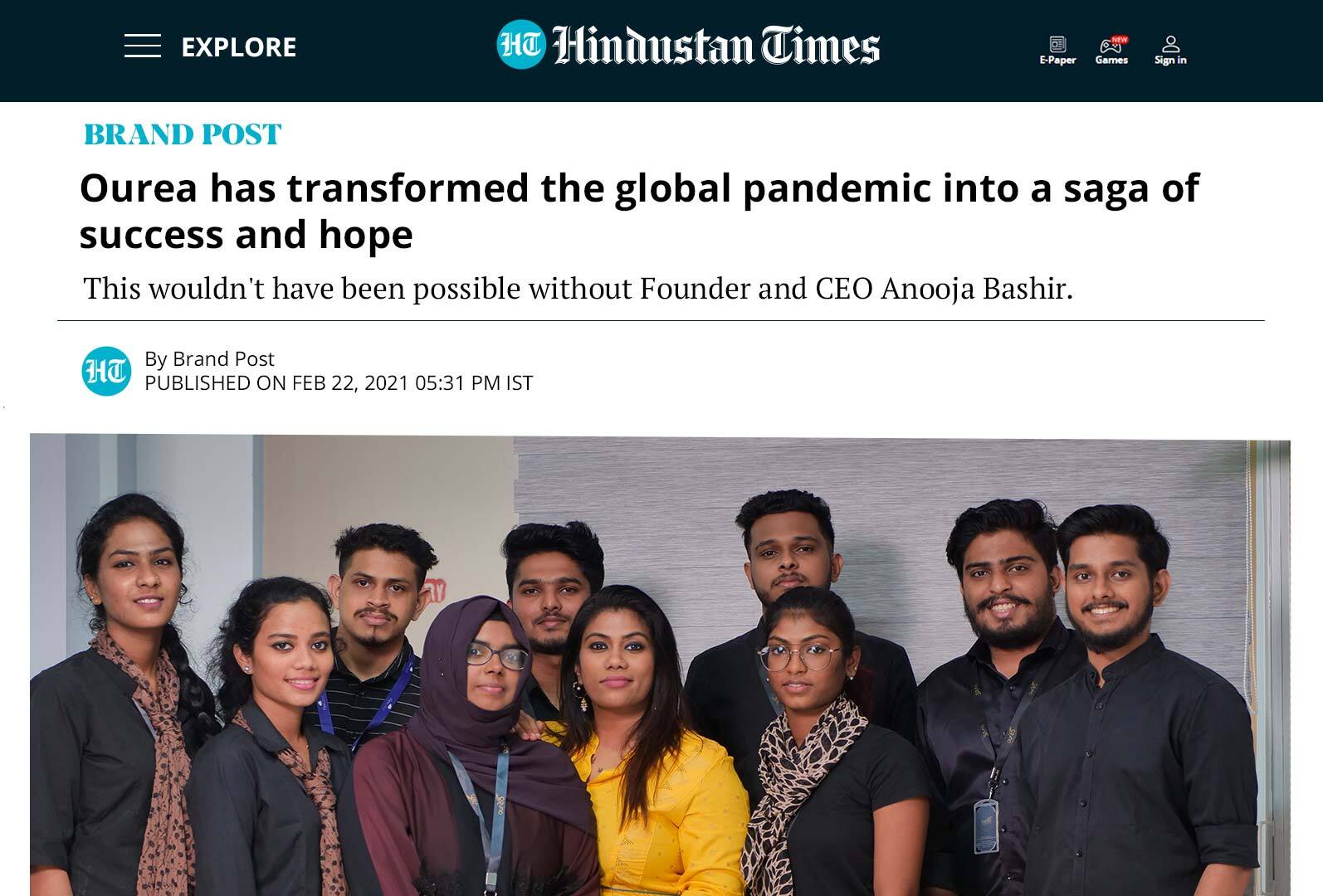 Featured in Hindustan times
Hindustan Times has featured how Ourea withstood and transformed pandemic into success and hope. The entrepreneurship saga of our CEO, Anooja Bashir, was remarked and turns out to be an inspiration to many.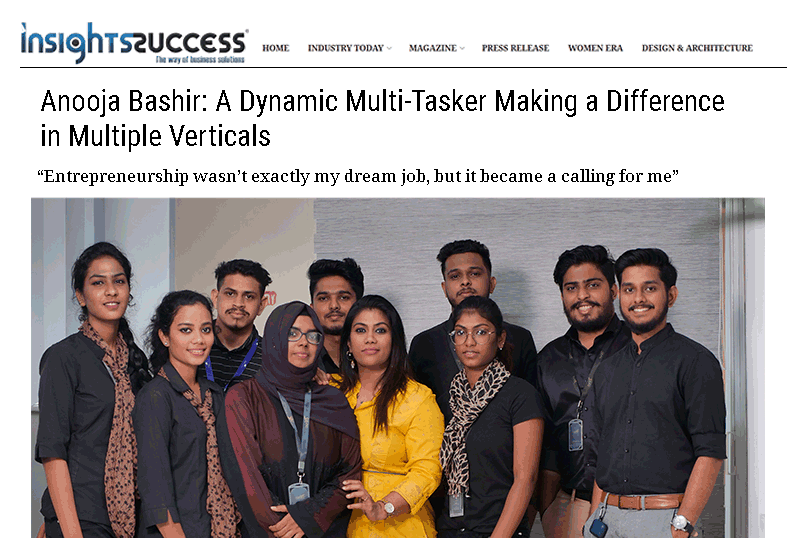 Featured in InsightSuccess
Our CEO, Ms. Anooja Bashir is remarked as a dynamic multitasker making a difference in multiple verticals by the renowned magazine InsightSucess. Her toils and hardship and the rise of Ourea as a successful 360-degree business management consultancy are portrayed beautifully in the featuring. Click on the link below to read on.
Deccan chronicle news on Ourea
Have a glance at this beautiful article from Deccan Chronicle to know how Ourea climb the ladders of success with the strong will of this woman Entrepreneur.The feature mentions about the team who had continuously supported her even at the bad days and together they have taken the venture to huge success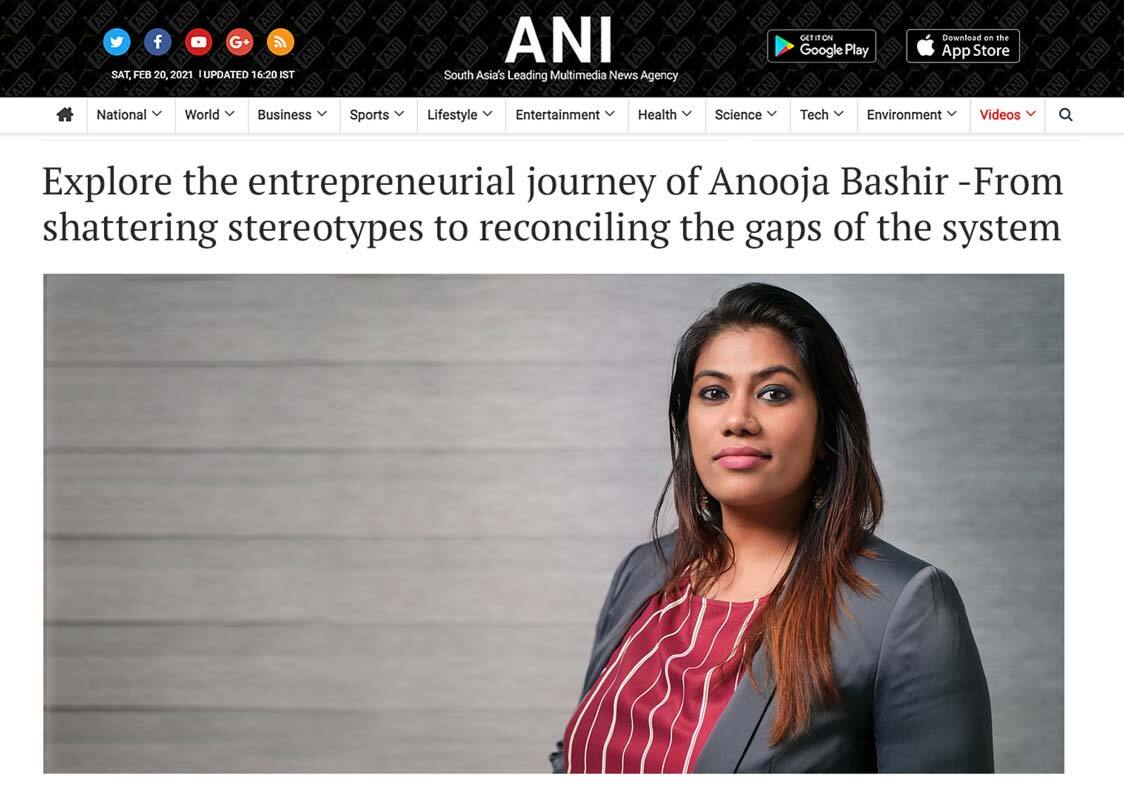 The saga of our CEO, Ms. Anooja Bashir bears a living testimony to the fact that undying willpower, perseverance and optimism laced with skills and talent will always grant success in the end. Her entrepreneurial journey and the success of Ourea are featured by ANI Magazine. Click on the link below to read the full featuring.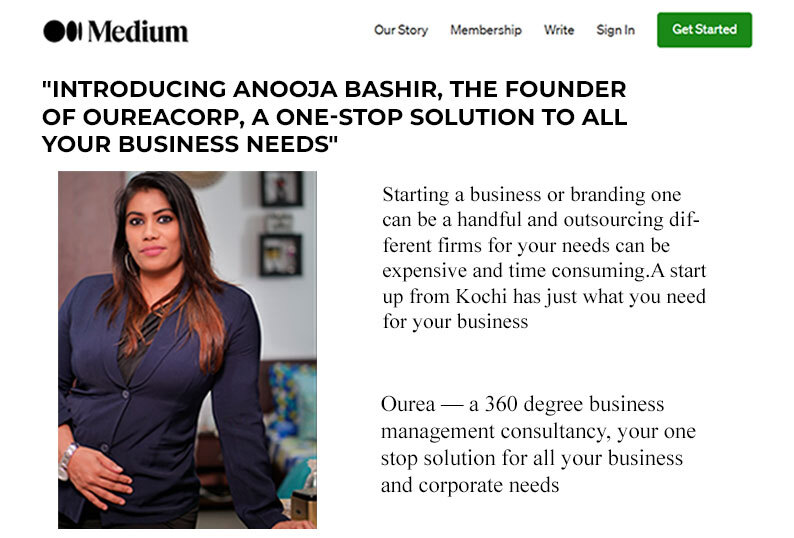 Ourea was featured in the Medium Magazine for the innovative solutions they offer for corporate needs. Ms Anooja Bashir, CEO Ourea, shared her experiences and journey. Read on to know about Ourea and their successful journey.
Our CEO Anooja Bashir gets featured by 'Asian Age'. She shares her journey of starting Ourea , the challenges she faced initially, the lockdown setback, and most importantly, the stronger comeback and working towards her dream of building the employability program "LIKES" .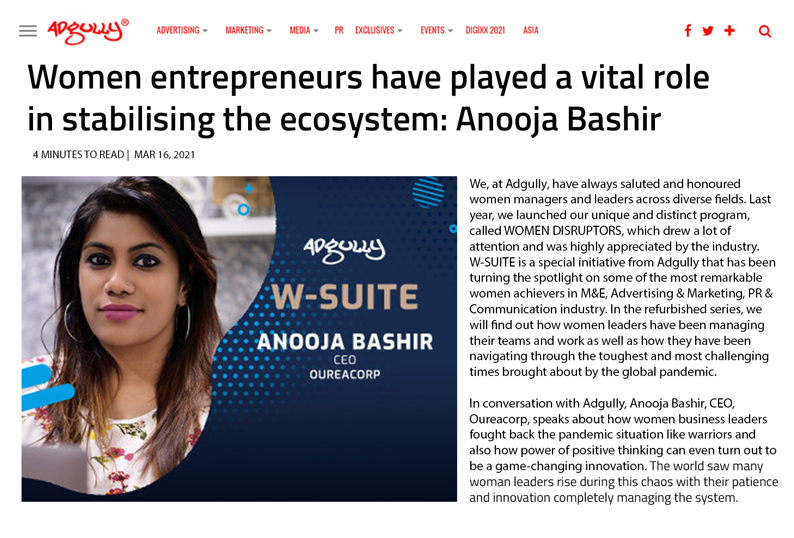 Our, CEO Ms. Anooja Bashir, was awarded the Women Disruptors Award 2021, by Adgully for her innovative concepts and outstanding contributions to society.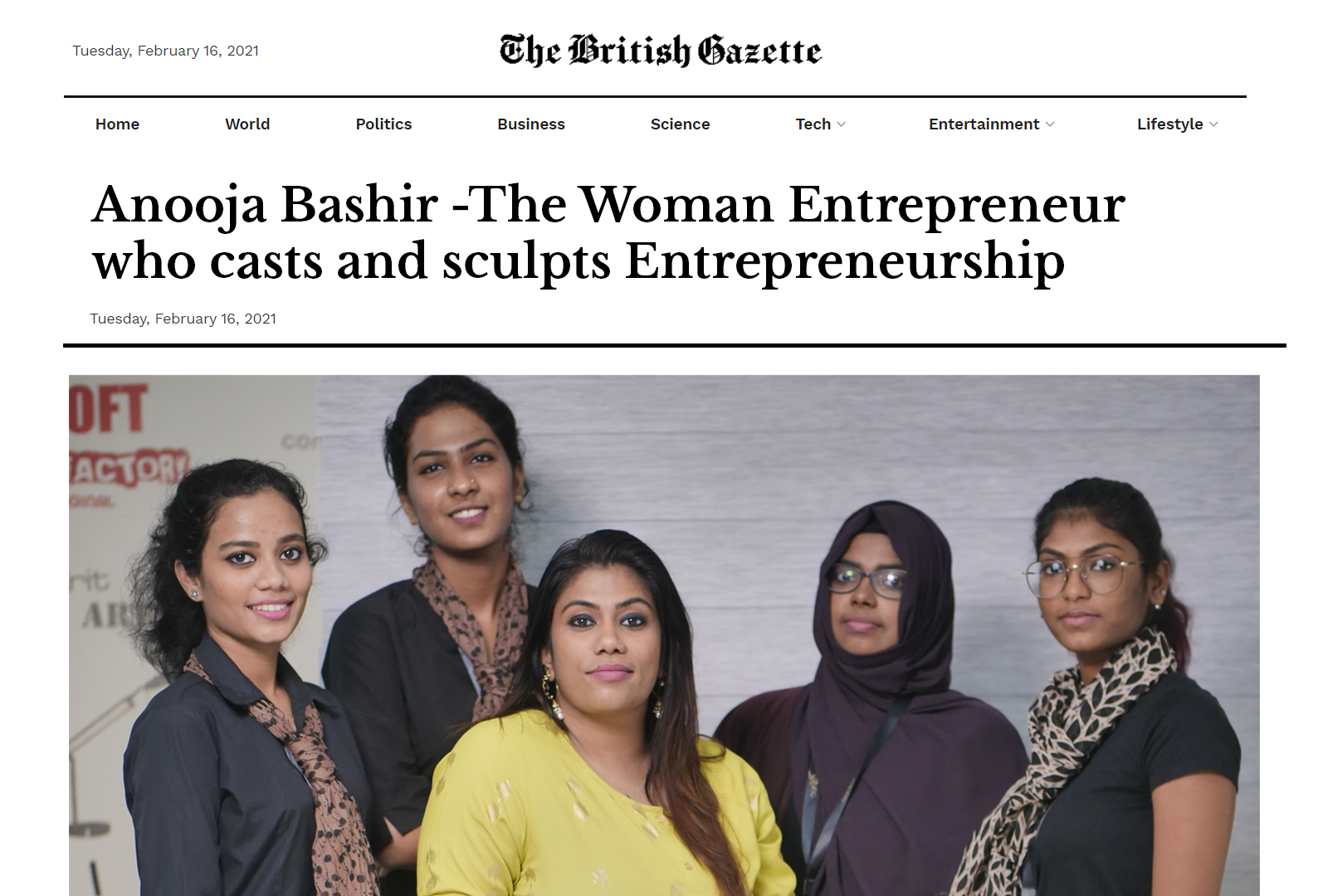 Featured in British Gazette
British Gazette Newspaper featured the entrepreneurship journey of Ms. Anooja Bashir. Her story is not just yet another tale of a successful businesswoman but of an individual who stayed self-motivated and never gave up on her dreams, no matter what the cost is. Read on to know her inspiring journey.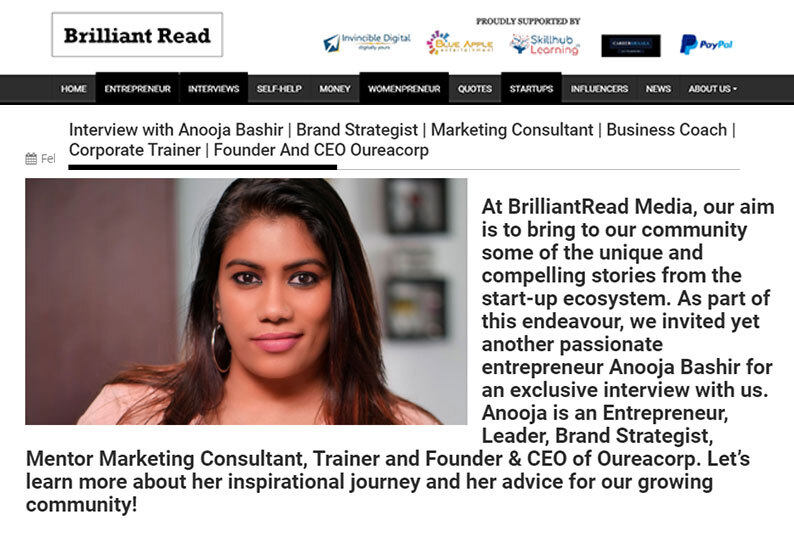 Brilliant Read featured Ms. Anooja Bashir, CEO, Ourea. She was interviewed and was asked to spread light on the company's profile, the inspiration for the amazing business model, the sister concerns of the firm, expansion plans and much more.
Know more about the company and the founders and their ideas of business. Click above to get the details.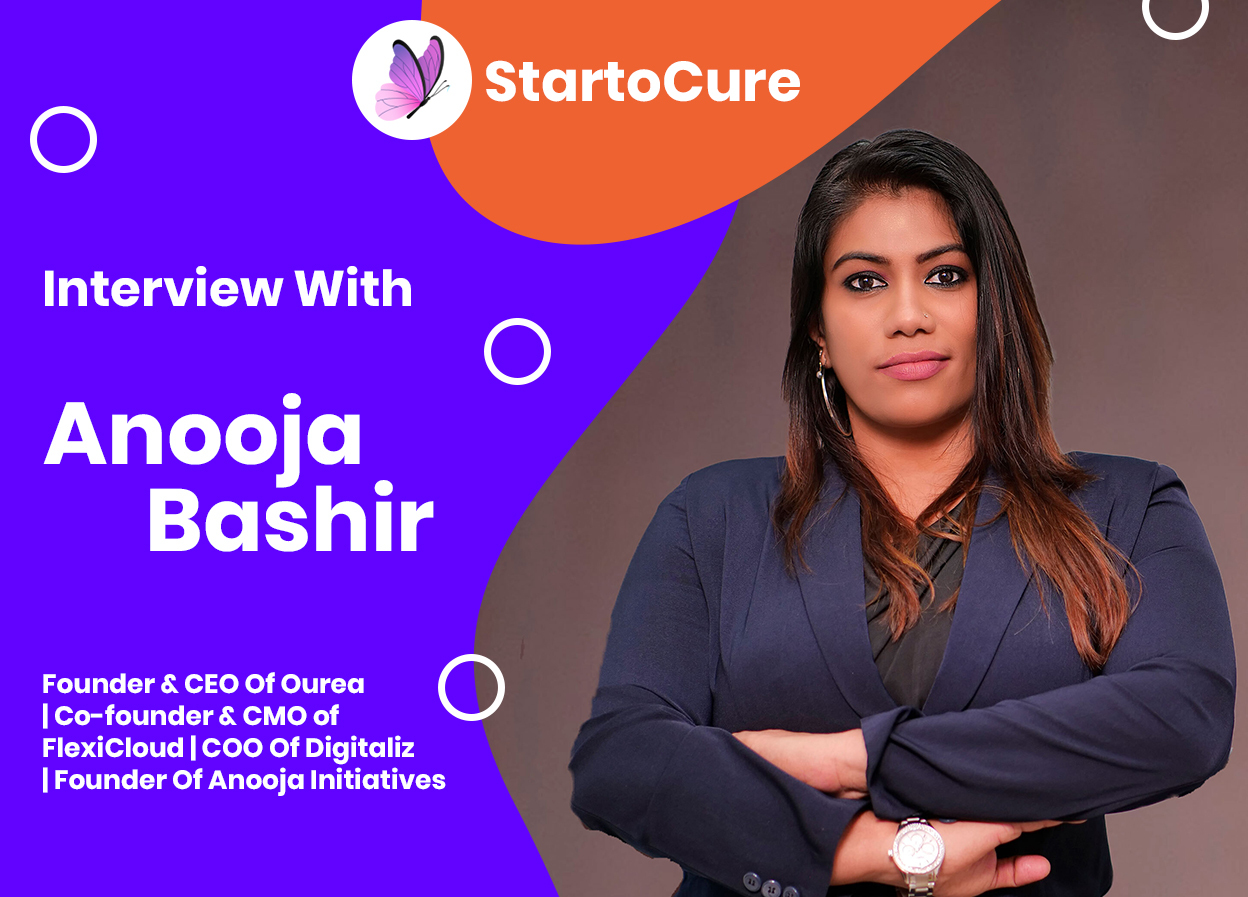 Ms Anooja Bashir was interviewed by Startocure Magazine for her all around experience and expertise. Read on the full interview to know more about her and to learn how she managed to handle multiple roles at a time. She puts forward her successful journey as an entrepreneur and the hardships she faced along her way.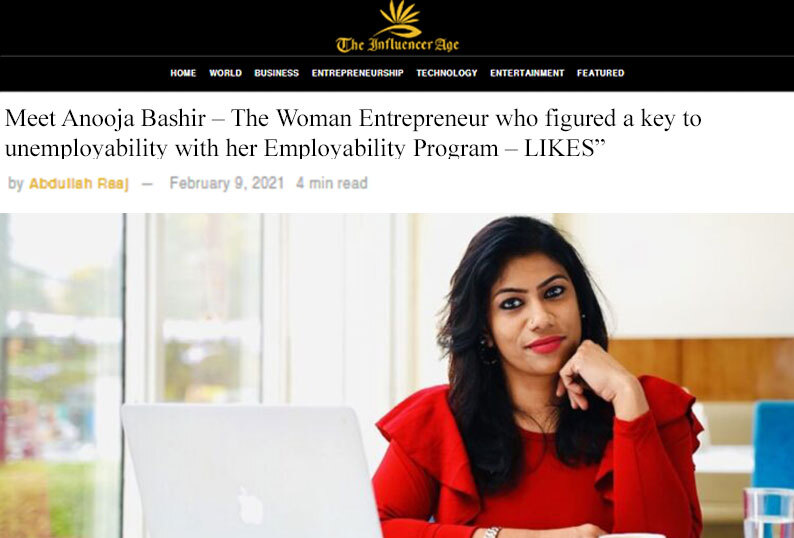 Ms Anooja Bashir was featured by the Influencer Age Magazine for her innovative concept, LIKES - Learning Innovative Key Employability Skills, a key to unemployability. The goal was to groom the talented recruits and mould them to a corporate fit. Read on to know more about the program.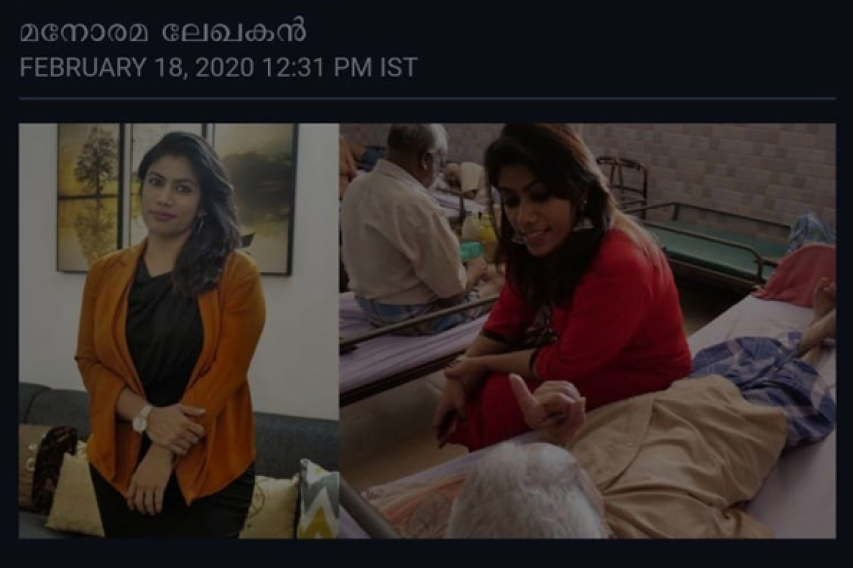 Malayala Manorama has beautifully captured and presented the social entrepreneurship journey of Anooja Bashir, the CEO of Ourea. As quoted, everyone does have a moment in life that would mark as the turning point of one's life. The incident that shook her life and made her realize her true purpose of life and humanity, got featured in Malayala Manorama. She always dreamt of empowerment through education. Today's society should more proactive to obtain jobs and build their career. She has put forward her thoughts on the current scenario of the education system. She envisions a society where everyone has access to good quality of necessities, and also enlighten the knowledge. She wants society to preserve and share the actual definition of being a beneficent human. Arent, you motivated to serve humanity? Read on to know about Ms. Anooja Bashir, the CEO of Ourea, and her social entrepreneurship – Anooja Initiatives.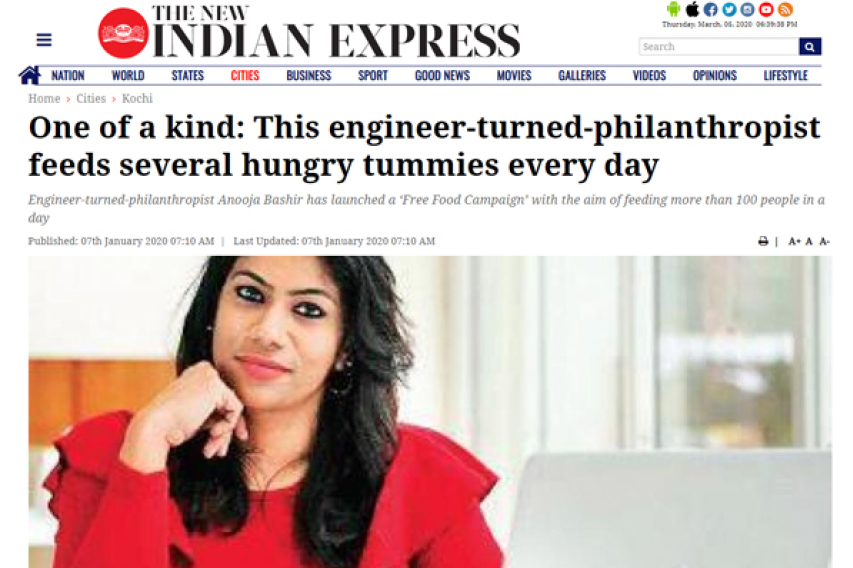 Anooja Bashir, CEO, Ourea is a philanthropist with a fierce mind to help others and bring a change in the society. Her mind after a heartfelt incident made her realise that this isn't fair that people have to beg to fulfil their basic needs. She then researched onto The Food Stamp policy which was introduced in the heaped-up years back to fight poverty in the country. She had the feeling, someone should commence working on developing such a system, as the regime alone can't resolve every dilemma in her immensely colossal country like India, with a high population and different cultures. Here was the onset of Anooja Initiatives. The hunger campaign started with going to an asylum accommodating abandoned men, women, and children with mental disabilities. From there, it was just the beginning, then they started providing food in and around Ernakulam to the places they could lay their hands on. She made sure that she provided at least one meal of a day to more than 100 people. The team engaged with all the people there and served food.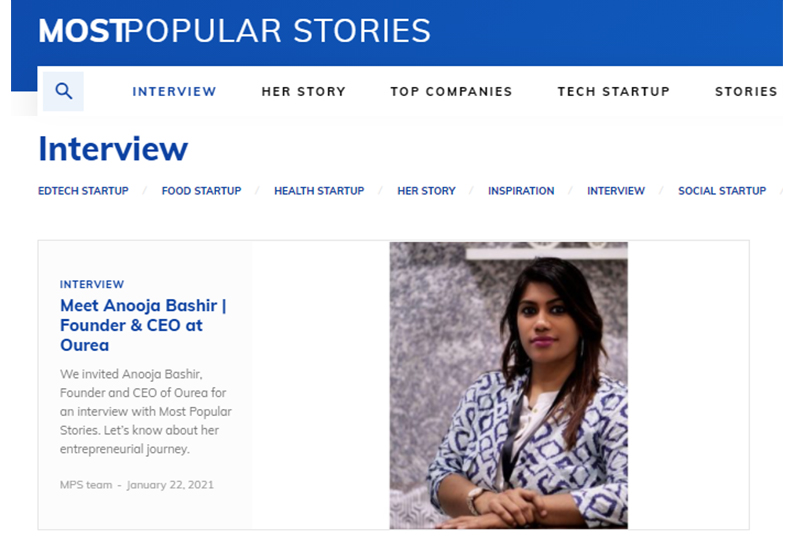 Mostpopular stories - Interview
Ms. Anooja Bashir was chosen to put some light on the struggle of her entrepreneurial journey by the Most Popular Story, she was asked to speak about the hurdles faced by her during the journey of the successful business woman that she is today. Her innovative ideas and out of the box business models were extensively appreciated and recognized by the team. Read more into the interview to know the details and tips to get your business growing.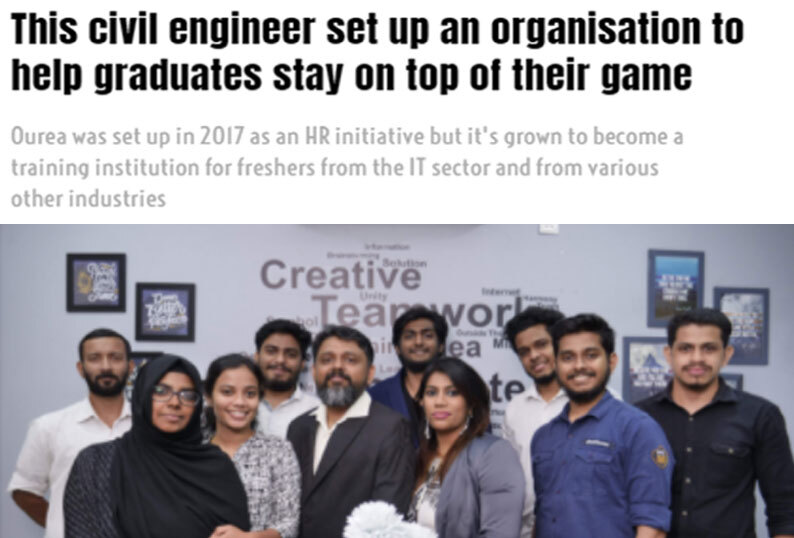 The concept developed by Ms. Anooja Bashir got featured in Indian Express on the success of ventures and the innovative training programs on employability have been recognized and appreciated as a new and unique solution to unemployment.